TM Robot On a Robot module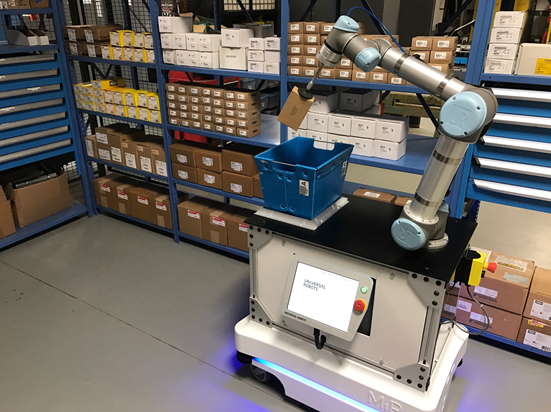 The Omni Automation TMROR is a top module with a robotic arm that performs various tasks throughout a facility. These robotic arms utilize a Collaborative Robot with a payload capacity of up to 10 KG. These robots can be used to retrieve product, perform manufacturing tasks, or work along-side humans in industrial manufacturing. These can be used in Manufacturing Facilities, Institutions, and Warehouses.
The combination of flexible robotic automation with autonomous navigation provides a very adaptive solution for ever changing manufacturing processes. The robot end of arm tooling can be a vacuum gripper, mechanical gripper or a host of other tools. When docked at a work station these mobile robots can perform tasks with an accuracy of up to plus/minus 1mm. Operating on Lithium Ion Batteries these robotic arms can operate for hours before recharging.
When the TMROR arrives at a docking station the robot communicates with the fixed automation over Wi-Fi or Bluetooth to signal the process to begin. Once the process is completed, the mobile robot is signaled to continue its mission to other locations in the facility.