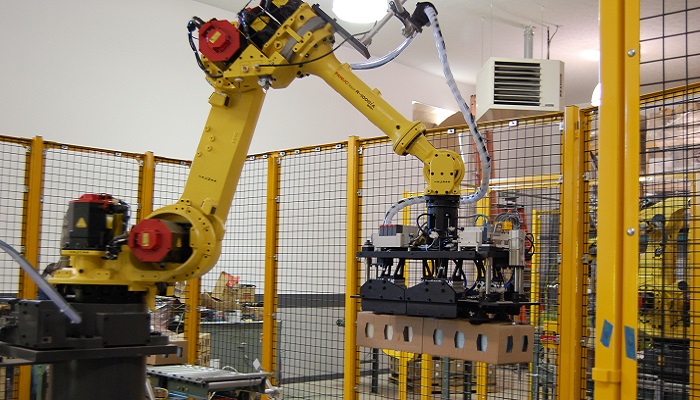 Fanuc Robotics
We are an Authorized Integrator of Fanuc Industrial Robotics. Fanuc is the world leader in industrial robots. Their industry-leading and innovative technologies help manufacturers maximize efficiency, reliability, and profitability. Their customer resource center is available 24/7 to provide support. As an authorized integrator we offer robotic solutions including machine tending, palletizing, pick and place, case packing, and a variety of other applications.
These industrial robots have payload capabilities ranging from 0.5kg to 1,350kg., including optional force sensing, and iRVision. Is Robotic Automation the right answer for your company?
Robot Vision Systems
FANUC's iRvision includes a camera and a cable that enhances the motion and overall precision of the automation process. There are a variety of options you can choose to enhance your production line with FANUC's line of vision processes.
iRvision is FANUC's easy to use robot vision system. The vision system is available for all of the FANUC R-30iA controllers. It involves only a camera and cable and is capable of part location along with error proofing. iRvision uses 2D guidance as a platform offering additional options for optimal performance.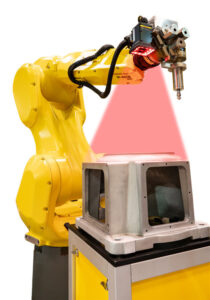 Robotic Palletizing Systems & Solutions
Efficiently transporting materials in and out of your manufacturing process can make a big difference in your labor needs, time to market, and your bottom line.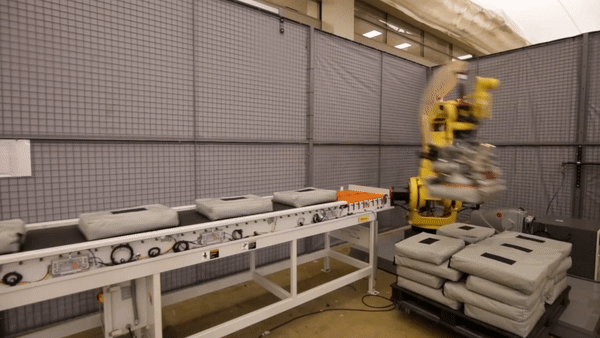 Whether you are depalletizing product at the front of your line or palletizing downstream, FANUC offers a complete line of robots designed and built to deliver high duty and the world's fastest cycle times. FANUC robots have been tackling complex and standard operations for 30 years. Whether you are palletizing a full layer or individual boxes, bags, pails or drums their systems are fast, steady, and reliable. FANUC's full line of palletizing robots give you options in terms of size, payload, speeds for cycle time and precision and most importantly, care in handling your products.
Selecting the right robot is typically dependent on the following factors: payload, reach, duty, cycle time and floor space. Don't forget to anticipate the weight of your end of arm tool, dressout, and product when selecting the desired payload range.